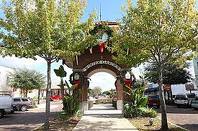 Winter Garden is a city located 14 miles west of downtown Orlando in Orange County, Florida.   With a current population over 30,000, Winter Garden is well known for their beautiful situated Historic District located on Plant Street featuring a vast array of restaurants, shops, and cafes.
The recently added Winter Garden open-air shopping center named Winter Garden Village at Fuller Groves is situated along Daniels Road and SR-429 and anchored by large retailers.   Winter Garden Village has over 1,100,000 square feet of retail space including popular restaurants and boutiques. With the expansion and widening of US 50 Colonial, Winter Garden real estate will soon have a beautiful roadway where new meets old and the Historic past.
Search Winter Garden real estate and communities for the latest homes to come on the market.
Bay Isle – Winter Garden real estate
Belle Meade – Winter Garden real estate
Black Lake Park – Winter Garden real estate
Bronsons Landing – Winter Garden real estate
Carriage Pointe – Winter Garden real estate
Chapin Station – Winter Garden real estate
Cobblestone – Winter Garden real estate
Corsino Place – Winter Garden real estate
Courtlea Oaks – Winter Garden real estate
Covington Park – Winter Garden real estate
Crown Point Springs – Winter Garden real estate
Daniels Crossing – Winter Garden real estate
Daniels Landing – Winter Garden real estate
Deer Island – Winter Garden real estate
Dearfield Place – Winter Garden real estate
Emerald Ridge – Winter Garden real estate
Foxcrest – Winter Garden real estate
Fullers's Landing – Winter Garden real estate
Fullers Crossing- Winter Garden real estaste
Glynwood – Winter Garden real estate
Grovehurst – Winter Garden real estate
Independence – Winter Garden real estate
Isles of Lake Hancock – Winter Garden real estate
Johns Cove – Winter Garden real estate
Johns Lake Pointe – Winter Garden real estate
Johns Landing – Winter Garden real estate
Lake Cove Pointe – Winter Garden real estate
Lake Roberts Landing – Winter Garden real estate
Oaks at Brandy Lake – Winter Garden real estate
Orchard – Winter Garden real estate
Regal Pointe – Winter Garden real estate
Regency Oaks – Winter Garden real estate
Signature Lakes – Winter Garden real estate
Southern Pines Condos – Winter Garden real estate
Stoneybrook West – Winter Garden real estate
Summerlake – Winter Garden real estate
Sunset Lakes – Winter Garden real estate
Trails of Winter Garden – Winter Garden real estate
Tucker Oaks – Winter Garden real estate
Village Grove – Winter Garden real estate
Westfield Lakes – Winter Garden real estate
Westside Townhomes – Winter Garden real estate
Winter Oaks – Winter Garden real estate
Wintermere Harbor – Winter Garden real estate
Wintermere Pointe – Winter Garden real estate
Woodbridge – Winter Garden real estate