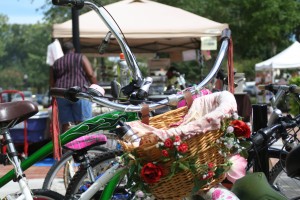 Refreshing.  Saturday morning brings life into downtown Winter Garden.  The already active historic downtown of Winter Garden, Florida com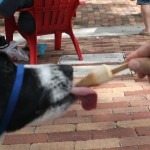 es alive each Saturday morning until 1 pm around the new City Pavillion – the venue for the weekly Farmer's Market.  Booths with familiar smiling faces set up each week displaying their fresh baked breads, hot organic coffee, hand-made shoes, jewelry, bags, gift baskets, children's boutique clothes, gourmet dog treats, meat, seafood and, of course, fresh produce.  In the background, a very talented guitar player and singer entertains a group eating ice cream and hot dogs while the hula-hoopers of all ages practice stage left.  While the weather is still warm, young children and their parents can be found thoroughly enjoying Winter Garden's new water feature – the fountains!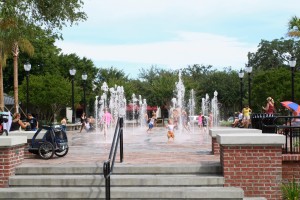 There is plenty of free parking, but some Winter Garden neighborhoods provide other options by proximity.  A short bike ride or walk can put you in the middle of things in minutes.  The City of Winter Garden has done an excellent job in their downtown revitalization.  There are attractive bike racks to be easily found throughout the historic district running mainly along Plant Street.  The West Orange Trail runs right through the middle of downtown Winter Garden making it a pleasant ride and easily accessible.
Where can you buy a home in Winter Garden to take advantage of this – and many other – energizing Winter Garden activities?  Below are some subdivisions north of highway 50 with easy access to the West Orange Trail and downtown.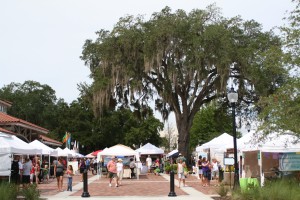 Click the links below to search within the subdivision, or contact me to set up a personal search!
Winter Oaks – Winter Garden real estate
Oaks at Brandy Lake – Winter Garden real estate
Oakland Park – Winter Garden real estate
Winters Landing – Winter Garden real estate
Courtlea Oaks – Winter Garden real estate
Courtlea Park – Winter Garden real estate
Lake Cove Pointe – Winter Garden real estate
Timbercreek Pines – Winter Garden real estate
Island Pointe – Winter Garden real estate
Valencia Shores – Winter Garden real estate
Lakeview Reserve – Winter Garden real estate
Covington Park – Winter Garden real estate
Downtown District (no subdivision)
Crown Point Springs – Winter Garden real estate
Chapin Station – Winter Garden real estate
Trailside Station – Winter Garden real estate