One of the signs of a thriving and well-established community is it's accessibility to good restaurants and good food. Winter Garden offers you just that. Drive through Winter Garden along Colonial Drive (Highway US 50) and you will be pleasantly surprised to see the well-known large eating franchises that gives us comfort food. Names like Mc Donalds, Wendy's, Taco Bell, Checkers and lots more.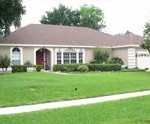 Nestled among them, however, are their rising competitor's.  Not to be outdone are restaurants with their ethnic kitchens that offer the welcomed variety that we often need and sometimes even remind us of our happy childhoods. They serve up Chinese, Thai, Hispanic, Irish and other ethnic fares that just make our mouths water.
Turn south from Highway 50 onto Daniels Road, drive about five miles along this street-lined four lane street and a wonderful surprise awaits you.  I call it "Winter Garden's Restaurant Row".  Leaving historic Winter Garden behind, it's almost like entering a different world. Modern, well-maintained buildings, beautifully manicured landscaping.  There in front of you are the names that make us salivate Chilis, Chic-fil-A, Quiznos, Chipotle Mexican Grill, Panda Express and lots more.  But your choices do not end there.  Across the street is Fowler's Mall which offers its own list of eateries.  YOUR CHOICES ARE ENDLESS for comfort food or just for a night off kitchen duty.
Winter Garden offers it all.  Good food, good communities, great homes.  Just minutes away from 'Restaurant Row' are modern communities to suit your taste and your pocket book.  Communities like Stoneybrook West, Bay Isle, Black Lake Park, Daniel's Landing, Deerfield Place, Foxcrest, Orchard and Reserve at Waterford Pointe.  YOUR CHOICES ARE WIDE AND VARIED.  WINTER GARDEN YOUR PLACE TO CALL HOME.