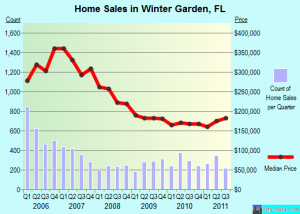 Winter Garden real estate steadily is becoming sought after real estate for buyers searching communities that no longer are declining.  As of this writing Winter Garden currently had 15 single family bank owned properties for sale, a far cry from over a hundred a few years ago.  With interest rates holding at all time lows buyers are sensing the urgency that now is the time to purchase before it's to late.
Winter Garden and Central Florida real estate for that matter, are headed back to normal real estate cycles, something we have not seen in years.  According to three leading U.S. economists reported from the National Association of Realtors, "Despite national and global headwinds, Florida's real estate market is entering 2012 on an upward trend". From the fast pace seller's markets seven years ago to the buyers market that started in 2007, Central Florida's real estate market is bottoming out and headed towards stability.
Look no further then the supply of homes for sale, this past month inventory of homes dipped below 10,000 in Central Florida, the first time in over 4 years, a reduction of over 16,000 properties.   Winter Garden currently has 170 single family active homes listed on the Mid Florida Regional MLS.  Communities in Winter Garden like Stoneybrook West that once had over 90 homes for sale now have 12.  Real estate is still about supply and demand and heading into 2012 the stage is set for continued growth and stability in Winter Garden, Florida's real estate market.