The new Tucker Ranch Recreation and Nature Complex (proposed name) may be ready for visitors as early as 2014.  The city of Winter Garden purchased the parcel ($2.1 million)  earlier this year and annexed it in October of 2011.  The city estimates $2.5 million in additional funds needed to get the project completed with camping grounds, fishing docks, boardwalks and conservation area.  Plans include removing exotic (non-native) plants and restoring the site to "old florida".  The plans include historical markers to educate visitors about the former site of the  West Orange Country Club of the early 1900's.
The site for the new Nature Complex is roughly 200 acres extending from south of the Florida Turnpike to the the north shore of Johns Lake.
The general area is shown below: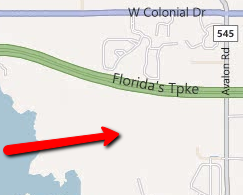 To the south of the proposed park, following Avalon Road, is the gated Winter Garden Community of Stoneybrook West with wonderful lakefront amenities of it's own.
The city of Winter Garden has done a terrific job of revitalizing Historic Winter Garden, bringing new retail commerce and residential areas with the addition of the Fowler's Grove / Winter Garden Village development and sustaining – even growing – Winter Garden in the past hard economic years.  Although this park will cost the city another $2.5 million, I am trusting that this will add great value to this Florida community.