The Isles of Lake Hancock is an gated enclave built primarily for boaters, skiers and water sport lovers.  The community of luxury homes is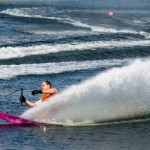 built on the Hancock Chain of Lakes and around two world class man made ski lakes.  One of the twin lakes is owned by the developer.  The other, known as Lake Stahling, is operated by the Isles of Lake Hancock Ski Club. Photo shows Kyle Tate of Winter Garden in competition at Isles of Lake Hancock event.
The location of this Winter Garden neighborhood is just 2 miles north of the northern side of Disney World and right around the corner from the Orange County National Golf Course.  Winter Garden Village at Fowlers Grove shopping and restaurants are just 10 minutes away.  Click map to enlarge.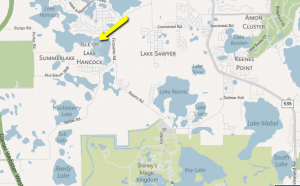 The homes in this community run from about $1.2 million to $2 million and are well appointed.  The small neighborhood has seemed to withstand the recent economic challenges.  Of the homes for sale as of  the date of this post, none are short sale or bank owned, and the recent sales in the past year have been regular sales.
Search Luxury Homes in Winter Garden for sale in Isles of Lake Hancock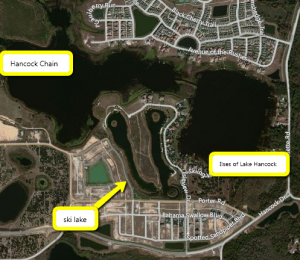 Photo gallery of past ski competition in Isles of Lake Hancock from WaterSki Magazine